[PRESS RELEASE]
Almere, The Netherlands
As part of its strategy to support Genset OEMs in the African region, Mitsubishi Turbocharger and Engine Europe B.V. (MTEE) have launched their PowerPackPlus product range. PowerPackPlus products involve the consolidated supply of a Mitsubishi Diesel Engine, radiator and Linz Electric alternator, giving OEMs the opportunity to simplify the management of their purchasing, logistics, customs clearance and aftersales support processes.
Developed under the 'Mitsubishi & Partners' initiative, the Engineering Department at MTEE have combined selected Linz Electric alternators with Mitsubishi Diesel Engines to provide a technically integrated and fully guaranteed and supported product that gives optimum performance.
PowerPackPlus
Four variants of the PowerPackPlus are currently available – 15 KVA 50 Hz Prime, 20 KVA 50 Hz Prime, 28 KVA 50 Hz Prime and 40 KVA 50 Hz Prime. In addition to the engine, radiator and alternator, the PowerPackPlus range includes intake, assembly and connection kits, which allow the OEM to tailor the specification to match their needs.
The union of Japanese and Italian technical and manufacturing expertise in the PowerPackPlus provides customers with a dependable, durable, efficient and cost-effective power-production unit that can form the foundation of any packager's product, all of which is supported by the assurance of the manufacturers' warranties and the Parts, Service and Engineering networks of MTEE.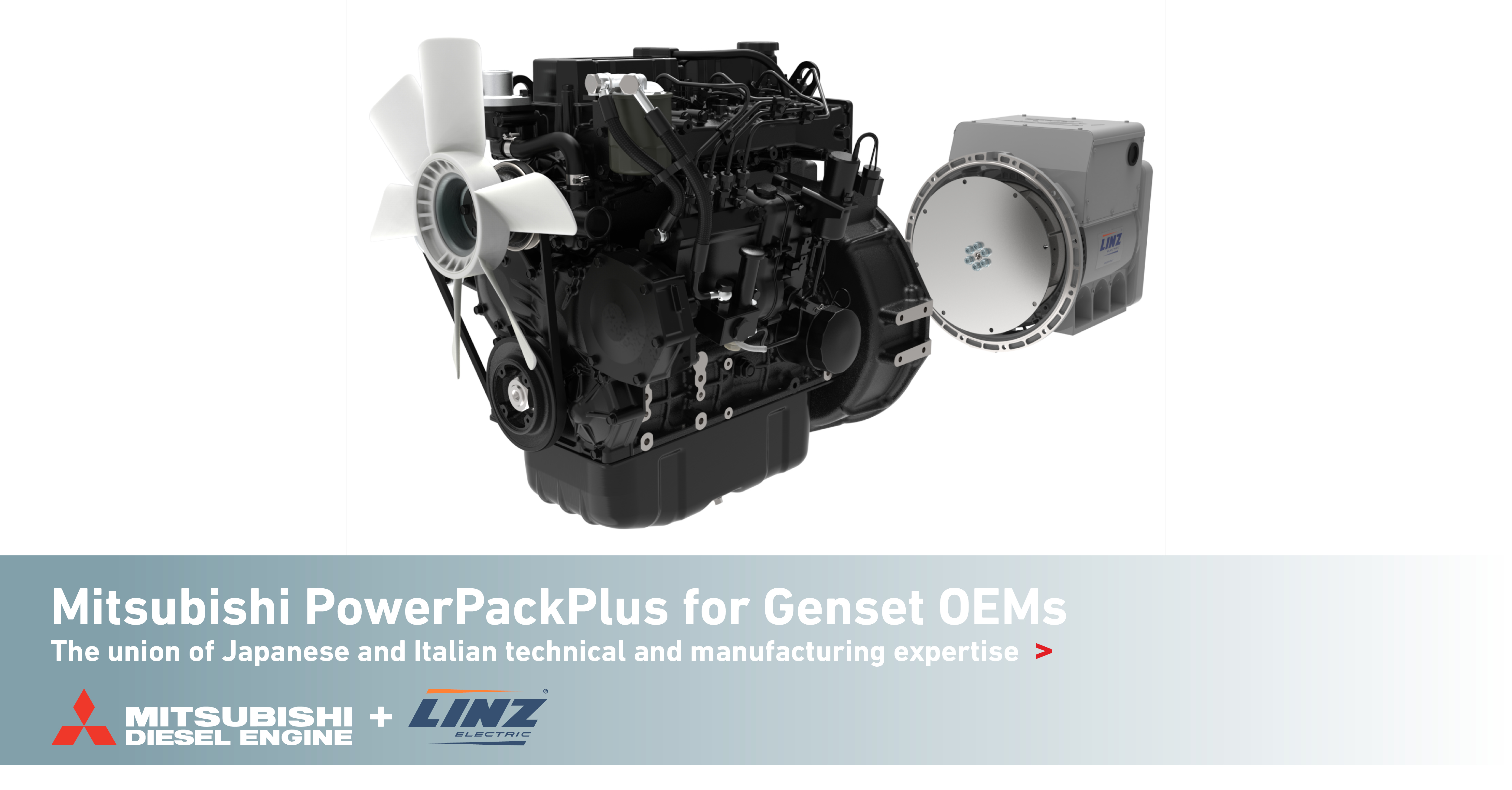 A S4S-61SD Mitusbishi Diesel Engine with a PRO18S C/4 Linz Electric Alternator
Mitsubishi & Partners
Within the 'Mitsubishi & Partners' initiative, MTEE creates best-practice solutions with its partners. By combining Mitsubishi's proven technologies with partner systems, MTEE is able to offer its customers a wide range of engine, generator sets and energy solutions, providing a quicker time to market, more innovation and compliance with new (emissions) legislation and regulations. For the PowerPackPlus initiative, MTEE has teamed up with Linz Electric for its high quality alternators and strong engineering support.
About Linz Electric SPA
Linz Electric founded in 2002, operates in the energy transformation field and is specialized in the design, production and sales of Made in Italy alternators and rotating machines. The twenty-year-long experience of its designers together, with the strong propensity for innovation and significant investments, have in a few years led to the development of a full range of products, whose high-quality standards are recognized and appreciated in more than 80 countries by major generator manufacturers. A fundamental characteristic of the company is the flexibility guaranteed by the strong vertical integration of production processes: the main components of its products, including coilers, diecast components, shafts, electronic adjustments, and inverters, are made entirely at its own facilities. Linz Electric is part of Pedrollo Group.

About Mitsubishi Turbocharger and Engine Europe
MTEE is a group company of Mitsubishi Heavy Industries, located in Almere. At the Engine & Energy Division we engineer, market, sell and service engines and generator sets for Europe, Russia, Middle East and Africa. Our products are typically used for Industrial and Marine applications, like data centers, offshore wind solutions and inland shipping. As a supplier of energy solutions, MTEE is preparing for a sustainable future and the energy transition the world faces, supported by our offices in Norway and France.
As part of Mitsubishi Heavy Industries Group, we share its global commitment to using technology and engineering to be a leading producer of quality engine & generator set products. We are committed to earning the trust of our customers by offering an experience of reliability. Working closely with our broad network of advanced partners, we diligently apply our expert approach to creating excellent products and practical solutions. Using the power of collaboration to help support sustainable societies. This is what it takes to move the world forward.
For more information, please contact:
Mitsubishi Turbocharger and Engine Europe
Chris Balink
Team Leader Marketing and Business Intelligence
Pedrollo Group
Cristina Fagioli
Head of Press and Communications