Almere, the Netherlands
Mitsubishi Turbocharger and Engine Europe B.V. (MTEE) and the STORM-Group have signed a letter of intent for cooperation. Both companies aim to jointly develop a Dual Fuel Methanol/Diesel Retrofit Kit for inland shipping. Koedood Marine Group, part of the STORM-Group, will market this new technology by utilizing its extensive network within the marine industry.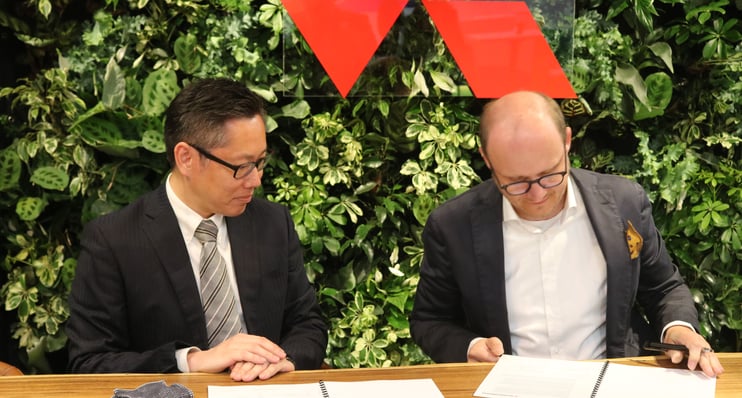 Sign-off ceremony at the Maritime Industry event (Gorinchem, The Netherlands) - From left to right: Mr. Nobuhito Iwata (Senior Manager Engine Division MTEE) and Mr. Timo Schlotzhauer (Managing Director August STORM GmbH & Co. KG.)
This Letter Of Intent aims to align the expectations of Mitsubishi and STORM for developing the Marine Dual Fuel Methanol/Diesel Retrofit Kit for Mitsubishi Marine Engine, contributing to carbon neutrality in marine transportation.
"Like all industries, commercial marine contributes to greenhouse gas emissions and accounts for about 3% of global CO2 emissions. The combustion engine itself is not the problem but foremost the usage of fossil fuels and we need to change this way of operation! Methanol promises highly reduced emissions due to the fact that once it is burned in an engine it only releases the CO2 it captures in its production and releases no sulfuric oxide (SOx) and much lower levels of soot and nitrogen oxide (NOx). Thus methanol is a fuel which promises reduced emissions when used in a combustion engine", says Timo Schlotzhauer, General Manager Marine Power Systems of STORM.
Carbon Neutrality in Marine Transportation
MTEE is committed to embracing and embodying the MISSION NET ZERO by contributing innovative technology in our field.
"We have established the Energy Transition initiative, which seeks to decarbonize the Engine Industry, especially in the marine market," says Morten Brix, General Manager of the Engine Division at MTEE. Inland waterway transport plays the most crucial role in transporting goods in Europe. Decarbonizing this sector is vital to reducing global emissions, and MTEE is investing in developing new technologies, such as hydrogen and methanol, to address this challenge. By prioritizing developing a Dual Fuel Methanol/Diesel Retrofit Kit for Marine Engines, MTEE takes an essential step toward achieving our goal of a sustainable future.
Mitsubishi & Partners
Under the "Mitsubishi & Partners" initiative, MTEE actively collaborates with its partners to create sustainable solutions. By incorporating Mitsubishi's advanced technologies with partner systems, MTEE aims to provide a diverse selection of high-quality methanol engines. In the Dual Fuel Methanol/Diesel Retrofit Kit project, MTEE has joined forces with the STORM-Group, with the Koedood Marine Group and the companies August STORM, Scandiesel, Emigreen and Hybrid Ship Propulsion. These companies are powerful brands within the European shipping industry, emphasizing innovation and sustainability, which aligns seamlessly with the Mitsubishi & Partners concept.
About Koedood Marine Group
Koedood Marine Group in Hendrik Ido Ambacht has been a leading and innovative company in the shipping sector for many years. After the company was founded in 1961, the Koedood family has grown it into an established player in Mitsubishi engines for inland shipping, offshore and seagoing vessels. In 2021 Koedood was taken over by the STORM-Group, a family business founded more than 80 years ago. Both companies share the same family values ​​and dynamics, making them a complementary team of subsidiaries that work closely together. Together we move forward!
Website: https://www.koedood.nl/
About August STORM
August STORM is one of the largest European OEM-independent service companies for all current types of combustion engines from 100 to 7,000 kW. Approximately 350 specialists work in the headquarters in Spelle, our two branches and eleven service branches and offer qualified and practically-orientated services. They are capable and ready to meet always-new challenges in the field. The five business units of our company represent the structure of the market specialization. Customer service is our top priority.
Website: https://www.a-storm.com/
About Mitsubishi Turbocharger and Engine Europe
MTEE provides internal combustion engines and generator sets for marine, industrial and integrated power plant applications. MTEE operates in Europe, Middle East and Africa. The company is part of the Mitsubishi Heavy Industries Group and is located in the Netherlands.
Website: https://engine-genset.mhi.com/
For more information, please contact:
Koedood Marine Group
Martine Brusse
Manager Marketing en Communicatie Koedood Marine Group
E-mail: mbrusse@koedood.nl, Mobile phone: +31 6 398 422 80
Mitsubishi Turbocharger and Engine Europe B.V.
Chris Balink
Team Leader Marketing and Business Intelligence
E-mail: cbalink@mtee.eu, Mobile phone: +31 6 1035 5046