Almere, the Netherlands
Mitsubishi is moving forward on reducing the environmental impact of economic activity and announces that HVO is now, in addition to large industrial engines, also usable for its marine engines in the European market.
What is HVO?
Hydrotreated Vegetable Oil (HVO) is a second-generation (synthetic) biodiesel that can be produced from various raw materials, including virgin vegetable oils and biomass. This makes HVO a renewable fuel with enormous sustainability benefits. These include a very high CO2 reduction of up to 90% (source Neste) and lower harmful emissions such as particulates and Sulphur.
Testing in Norwegian waters
The approval to use HVO is based on extensive testing on both the test bench and in the field. The tests carried out on ferries with thousands of operating hours provided valuable practical information on the performance and maintenance of Mitsubishi engines.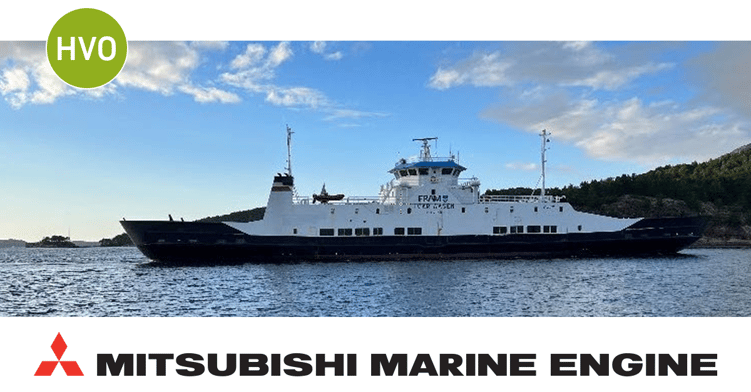 Testing in Norwegian waters
No changes to engine and maintenance schedule
As HVO is almost identical to conventional diesel, HVO can be used without modifying the engine. In general, blends containing more than 30% HVO may have a slight effect on performance and fuel consumption, as expected, due to the difference in density and heating value compared to EN590 diesel. However, HVO can be used without significantly affecting existing maintenance schedules.
Quality management
Despite extensive testing, Mitsubishi Turbocharger and Engine Europe B.V. (MTEE) still ask its customers to apply to MTEE in advance. HVO will be approved based on engine type, application, and HVO specification. MTEE also asks its customers to provide the oil samples' test results and supply the oil filters during the first year. Through this additional control, MTEE keeps a grip on the well-known quality of the engines when using HVO fuel.
* applies to the SB, SA and SR Mitsubishi marine engine models