Almere, the Netherlands
We welcome Horus Energia as our official dealer of Mitsubishi Turbocharger and Engine Europe B.V. (MTEE). Horus Energia is now responsible for the sales and service of Mitsubishi MSG-EU in Poland.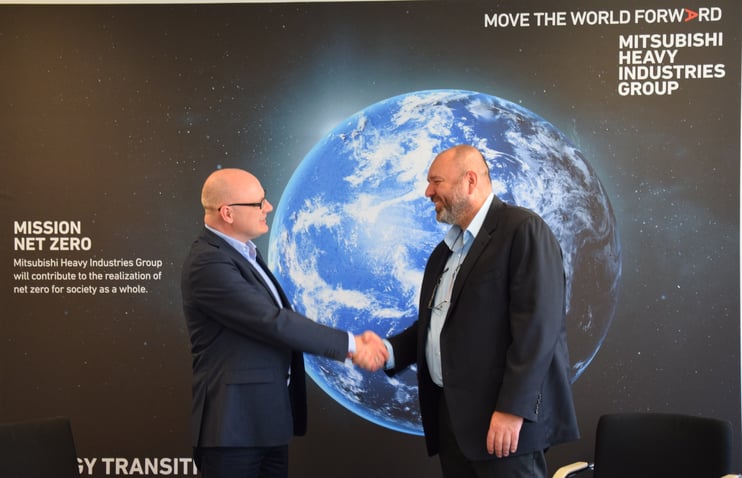 From left to right: Morten Brix (MTEE General Manager) and Grzegorz Koblak (Horus Energia Vice President)
As Poland's generator set sector grows, we are investing and expanding the business in the Poland Region. In addition, we are further professionalizing our service network by adding new highly qualified dealers. Horus Energia is well known for its high standard for the top quality of products which is confirmed by an ISO 9001:2008 certificate, customized solutions, and fast delivery time with experienced engineers and fits perfectly in the Mitsubishi and Partners organization. Therefore, we are proud to announce this new partnership and we are looking forward to a successful collaboration.
About Horus Energia Sp. z o.o.
Horus Energia Sp. z o.o. was founded in 1984 and is now one of the largest and most reputable companies in the Polish power generation market.
Horus Energia offers complex support in everything regarding generator sets, starting from the selection phase through the preparation of necessary designs and approvals, delivery, complete and special installation, start-up, ending on warranty, and after-warranty service.
Horus Energia Sp. z o.o.
ul. Drobiarska 43, 05-070 Sulejowek, Polska
+ 48 22 33 15 310
About Mitsubishi Turbocharger and Engine Europe
MTEE provides internal combustion engines and generator sets for marine, industrial and integrated power plant applications. MTEE operates in the regions: Europe, Middle East and Africa. The company is part of the Mitsubishi Heavy Industries Group and is located in Almere, the Netherlands.