Almere, the Netherlands
We welcome Nouum Engineering as our official dealer of Mitsubishi Turbocharger and Engine Europe B.V. (MTEE). Nouum Engineering is now responsible for the sales and service of Mitsubishi marine engines, marine generator sets and related spare parts in South Africa.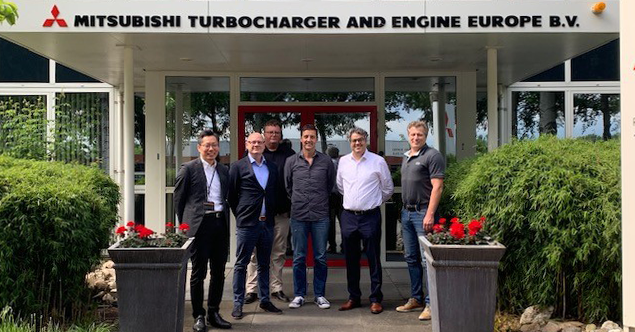 From left to right: Nobuhito Iwata (MTEE), Morten Brix (MTEE), Wout Heerschop (MTEE), Tom Martin (Nouum Engineering), Farid Kemmoun (MTEE) and Job van der Meer (MTEE).
As Africa's maritime sector grows, we are investing and expanding the business in the African Region. In addition, we are further professionalizing our service network by adding new highly qualified dealers. Nouum is well known for its high technical standard and fits perfectly in the Mitsubishi and Partners organization. Therefore, We are proud to announce this new partnership and we are looking forward to a successful collaboration.
About Nouum Engineering (Pty) Ltd
Nouum Engineering (Pty) Ltd was founded in 2016. Although still young in company years, the coworkers have more than 113 years combined experience in diesel engines. The company operates as a repair center in Cape Town, Western Cape, South Africa, offering services and repairs to slow, medium and high-speed diesel engines worldwide.
Nouum Engineering (Pty) Ltd
Unit 2, 9 Warbler Close, Marconi Beam Montague Gardens, Cape Town, 7441, Western Cap South Africa
+ 27 21 201 1468
info@nouum.com
About Mitsubishi Turbocharger and Engine Europe
MTEE provides diesel and gas engine solutions and generator sets for marine, industrial, construction, agricultural and integrated power plant applications. MTEE operates in the regions; Europe, Russia, Middle East and Africa. The company is part of the Mitsubishi Heavy Industries Group and is located in Almere, the Netherlands.