Almere, the Netherlands
We welcome Sarl CRMN as our official dealer of Mitsubishi Turbocharger and Engine Europe B.V. (MTEE) in Algeria. CRMN is now responsible for the sales and service of Mitsubishi Propulsion Engine, Marine Generator Sets and Parts in Algeria.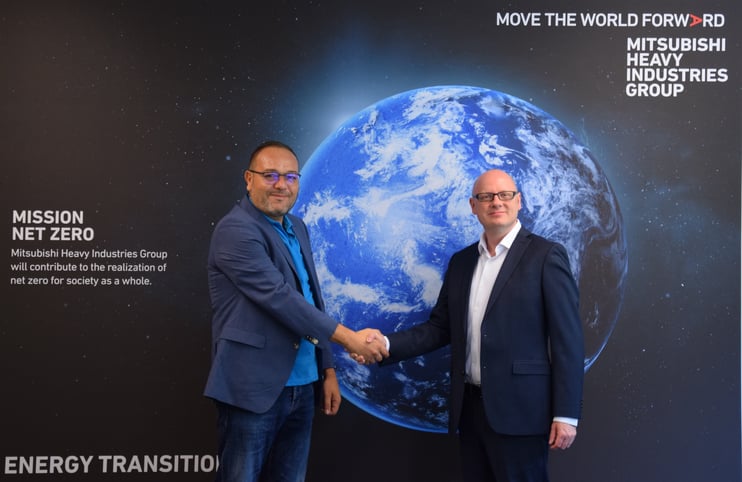 From left to right: Sellam Mourad (CRMN General Manager) & Morten Brix (MTEE General Manager)
We have chosen Sarl CRMN as the dealer for Mitsubishi marine equipment and services in Algeria due to several compelling benefits. Sarl CRMN is a company located in Algeria that has established business connections in major fishing ports such as Dellys, Zemmouri, and Bejaia. Algeria has a total of 12 main fishing harbors, making Sarl CRMN's location ideal for our partnership.
In addition to its great location, Sarl CRMN has extensive experience in the fishing industry, naval construction, repair and maintenance. Their commitment to excellent customer service and widespread network in Algeria align seamlessly with Mitsubishi's dedication to top-quality products.
Partnering with Sarl CRMN ensures a smooth supply of equipment and efficient post-sales support, ultimately enhancing customer satisfaction in the Algeria maritime market and elevating Mitsubishi's brand presence.
About Sarl CRMN (CRMN)
CRMN's extensive experience in the field has enabled them to gain a thorough understanding of the needs of Algerian fishing owners, establishing credibility with seafarers, Algerian national shipping companies, passenger and goods transport, gas, and oil transport.
Specialties

The marine fishing sector, shipping (passenger and freight transport), transport of lubricants, oil and gases, leisure (pleasure boats) tourism, as well as industrial markets in southern Algeria, are among the specialties of Sarl CRMN.
Sarl CRMN also specializes in shipbuilding, ship and industrial repair and maintenance. They offer on-site intervention directly on the boat, with insurance for spare parts through reliable providers like DHL.
Address: Staoueli, Algiers, Algeria
+213 781 57 90 29
+213 540 40 24 63
About Mitsubishi Turbocharger and Engine Europe
MTEE provides internal combustion engines and generator sets for marine, industrial and integrated power plant applications. MTEE operates in the regions: Europe, Middle East and Africa. The company is part of the Mitsubishi Heavy Industries Group and is located in Almere, the Netherlands.